For privacy reasons YouTube needs your permission to be loaded.
I Accept
The Celebrities of Yesteryear – A brief introduction into some of our more famous residents.

An Exclusive Shelley Weekend Here At The Plas
Dates In November / December 2020 & January / February 2021
Picture this:
Award winning Plas Tan-Yr-Allt Historic Country House in partnership with Booklovers' Literary Tours is delighted to announce a series of exclusive weekend tours later on this and early next year. Offering you the opportunity to discover more about the great and often controversial Percy Bysshe Shelley.
One of the most highly regarded Romantic poets of the 19th century, Shelley has strong connections with Plas Tan Yr Allt, staying here between 1812 and 1813 and completing his most famous work "Queen Mab" whilst residing here.
We will be sharing some of the secrets of his eventful stay with you and taking you on a tour of some of the locations most associated with him and his enterprises.
Would you like to learn more?
Welcome to our 'Shelley Discovery Weekend' where you will get to…….
Stay 3 nights B&B at award winning Plas Tan Yr Allt Historic Country House.
Savour the legendary Miss Hilda's Edwardian Cream Tea on arrival.
Enjoy our full tour programme with the services of a knowledgeable & expert guide.
Not have to worry about transport as this is included.
Walk the Shelley Trail incorporating the Roman Steps, Pant Ifan Farm and Tremadog.
Visit the Cob in Porthmadog where Shelley raised funds for its infamous 1812 breach.
Take a trip on the world famous Ffestiniog Railway.
Relax with an evening of poetry reading and discussion of "Queen Mab."
Evening meal at Y Sgwar, 2017 winner of the "Best Restaurant in Wales."
"One of the top 10 literary writers retreats in the UK for a truly inspirational break."      The Observer On Sunday

Day One
Your room will be available anytime from 3pm onwards. Once you're settled in, we will all meet at 3:30pm for afternoon tea, where you can get to catch up with us and the other guests whilst finding out more about Shelley and his connections with the house. Following tea we will have a short tour of the house and its grounds, including the Shelley Monument. Handouts on Shelley will also be distributed. The evening is then free for you to do whatever you wish. We will be at hand to give you suggestions and directions if required.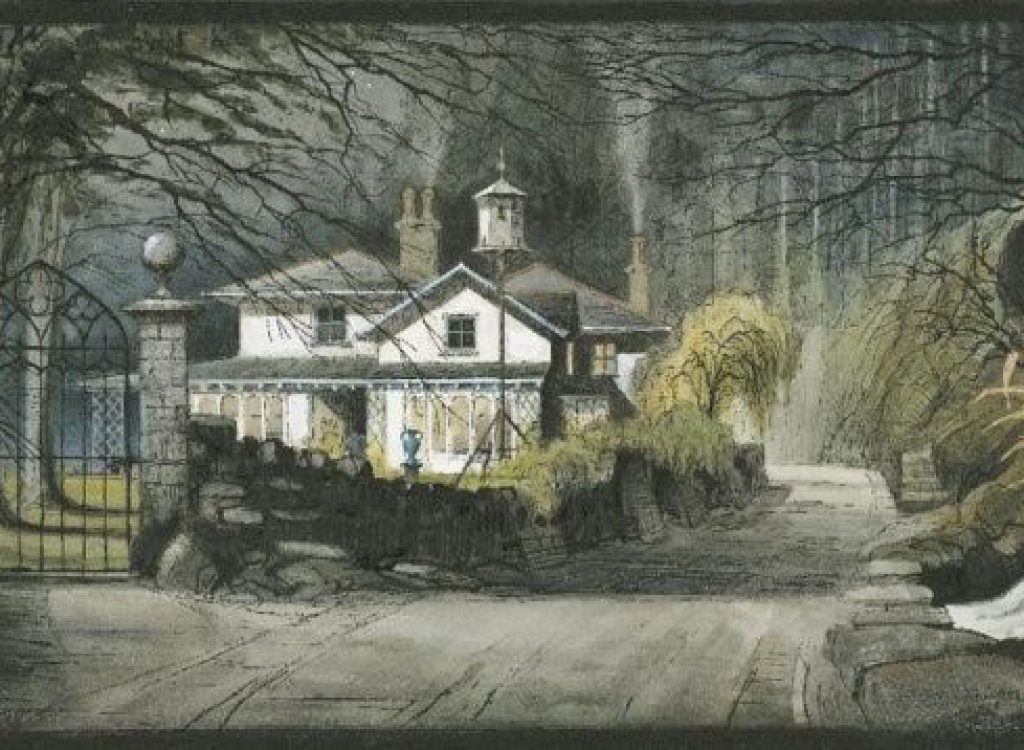 Day Two
After a hearty 9am Welsh breakfast, we will all meet at 10:15am for the start of the Shelley Walking Tour. The Shelley Walking Trail incorporates many of the locations most associated with Shelley including the Roman Steps and haunted Pant Ifan farm, home to the sheep farmer Robin Pant Evan who is reputed to have shot Shelley! The trail ends in Tremadog where we can look round the Market Square before being picked up by Dukes Taxis for the short ride to the Cob at Porthmadog. This impressive sea wall was the brainchild of William Alexander Madocks, original owner of Plas Tan Yr Allt and Shelley is rumoured to have contributed funds to its repair, after it was damaged by a storm on the 14th February 1812.
Pub lunch back at Tremadog, after which you can either return to Plas Tan yr Allt on foot or by taxi.
On your return to the house meet in the Drawing Room at 3pm for a chance to share your thoughts on the trail.
6pm – Early Bird Dinner at the award-winning Y Sgwar, after which we return to the house by 8pm for an evening of "Queen Mab" and a discussion on the supposed assassination attempt on Shelley.
"After their long and uncertain travels, the Shelley's were delighted with the prospect of staying at Tan-Yr-Allt."  Richard Holmes – Shelley The Pursuit
Day Three
Following another hearty Welsh breakfast at 8am, we will travel by taxi to catch the Ffestiniog Railway train, departing Porthmadog at 10 am. The spectacular round trip to Blaenau Ffestiniog passes through some of the most beautiful scenery in Wales (including a run over the Cob) and takes about 2 and 3/4 hours, returning to Porthmadog for 12:45pm.
Lunch at Spooner's Café, Porthmadog. James Spooner (1789- 1856) was the engineer who designed the Ffestiniog Railway for William Madocks and himself lived at Plas Tan yr Allt between 1818 and 1829.
After lunch you are free to take in the sights of Porthmadog, before returning to the house for 3:30pm, when we will meet in the Drawing room for a final chat and discussion till 5:30pm.
Evening free to do as you please.
Day Four
Final hearty Welsh breakfast with a chance to swap phone numbers and say goodbye to your fellow guests!
We can guarantee you will absolutely love this experience and will take away memories that you'll never forget! Just don't be surprised if it becomes an annual event in your calendar!
To find out how you can take advantage of this and for further information on prices and dates please email us at: [email protected] or CLICK HERE to message us quoting 'Shelley Weekend' . We are expecting a high demand so please get in touch early to avoid disappointment before the offer finishes.

Places Are Limited.