For privacy reasons YouTube needs your permission to be loaded.
I Accept
A preview of Porthmadog and local attractions in this coastal video.

The Plas Gift Vouchers – Good Times Are Coming – Life After Lockdown – Your 'Home Away From Home Awaits'.
Valid For A Full 12 Months – With 10% Off All Stays When Purchasing This Offer.
Having already been blessed to have received so many encouraging messages of support from you. Mark and I are incredibly grateful to those who have already bought vouchers so far. Together we will get through this, and a voucher purchase represents the promise of an absolutely wonderful stay whilst enjoying our fantastic hospitality once this is all over.
To this we have been advised by the Welsh Government that we can currently take bookings from the 26th September 2020. However there is a strong possibility that The Plas will open its doors before then as this is being reviewed every 3 weeks. We are anticipating an extremely high demand of reservations once we re-open. Our plan is to secure all remaining dates for as many of our loyal past guests in advance if possible. The hospitality sector has obviously been hit very hard by the pandemic and this will really help us to generate a much needed revenue stream.
Our Very Special Gift Vouchers – Luxurious overnight stays – Treat Yourself To The Perfect Gift…….
Our Gift Vouchers are now available to purchase and can be adapted for a minimum of 2 nights + (no maximum nights) to stay in one of our 3 themed rooms. All voucher stays include a hearty Welsh breakfast each day and complimentary Miss Hilda's Edwardian Cream Tea on arrival.
"A relaxing stay in a really plush environment. The whole stay was a special experience. The rooms are beautifully furnished, better than most manor houses, and so much better than a six-star hotel." David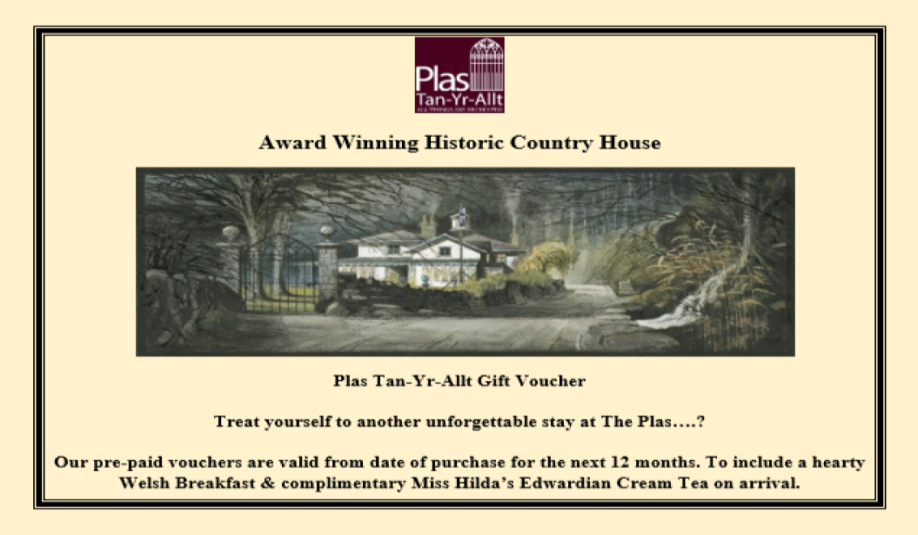 Staying in The William Madocks Bedroom then be mesmerised by the far-reaching views over the Glaslyn Estuary, to the Cob and mountains beyond; perhaps staying in Shelley's Theatre without the 'audience' but with its original vaulted ceiling and literary mystique; or Miss Hilda's bedroom with its quaint Half Tester – be wrapped up and cosseted by her 'old world' charm.
So, whether its drinks or evening board games in the Drawing Room, complimentary afternoon tea or a gentle stroll after breakfast in the grounds, at the end of the day your comfort is paramount to our delivering a wonderful experience.
"Afternoon tea in the Drawing Room was a delight whilst admiring such beautiful views, every window was like a picture."  George & Paula
All vouchers are valid for a full 12 months from date of purchase and are available from just £130 per room per night – minimum 2-night stay + (no maximum nights).
This includes a luxury overnight stay in 5 Star accommodation, complimentary Miss Hilda's Edwardian Cream Tea on arrival and a hearty Welsh breakfast each day.
All vouchers purchased as part of this offer will automatically get 10% off the entire stay. To find out how you can take advantage of this and for further information on prices please email us at: [email protected] or CLICK HERE to message us. Please quote 'Gift Vouchers 2020'.We are expecting a high demand so please get in touch early to avoid disappointment before the offer finishes.
Press Play To Toggle On / Off