Plas Tan-Yr-Allt Award Winning Historic Country House
HERE'S HOW WE'RE KEEPING YOU COVID-19 SECURE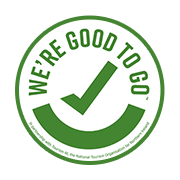 Plas Tan-Yr-Allt is both our home and a Bed and Breakfast and so protecting both ourselves and you are of utmost importance to us. We would like to reassure you that we are taking the health and safety of our guests very seriously and are following the guidelines issued by Gwynedd County Council and the Welsh Government. To this we have had to pass the 'We're Good to Go' Hospitality Covid 19 Scheme which allows businesses to open and trade safely.
However, we are also making our best efforts to continue to create and offer a safe, stress free, break; and whilst we have to keep 'physically distant' we do not believe we have to be 'socially absent'. We can still chat and laugh together whilst maintaining the designated distance.
Obviously and inevitably we have had to change a few things.

PRE-ARRIVAL
Minimum stay – We have extended our minimum stay to two nights until further notice. This will reduce the frequency of guest changeovers and therefore the number of different people guests encounter when here. You will also be asked if you would like your room serviced during your stay or if you prefer not to have a housekeeping service.
Payment. All payments are made upon check-out using our contactless card machine.
Guest Health. We ask all guests to be vigilant about their own health. If you feel unwell before your booked arrival date; or have been in contact with people who are unwell from suspected Coronavirus, please contact us immediately.
If guests arrive exhibiting possible symptoms, we reserve the right to turn them away so to keep us and our other guests safe. These include; A high temperature and a persistent cough, fever, breathlessness, sore throat, headache, loss of sense of taste or smell or unexplained rash.
Upon booking your stay you submitted contact details and also completed online check-in. If requested by the Welsh government these details will be provided to the Welsh Government Track and Trace and Protect system.
We are relaxing our terms and conditions to enable you to make last minute cancellations when COVID-19 related; and bookings can be easily transferred to a later date. Obviously, we may require proof of your reason for cancelling if this falls within the non-refundable cancellation window prior to check-in.

CHECK-IN
Arrival time. We have traditionally allowed our direct booking guests to have a more flexible arrival time; however due to enhanced and prolonged deep cleaning after each guest departure and the time now required to properly ventilate rooms we ask that guests check in between 3pm and 5pm only. This is also put in place to reduce possible congestion in the lobby, corridors and communal areas during peak traffic times.
Check in. We ask that you let us know your anticipated arrival time 15 minutes prior to arrival. Please do not try and enter the premises as the door will be locked. We will meet you in the carpark from a safe distance and welcome you. We will quickly take your temperature using an infrared thermometer – If your body temperature is 38 degrees or above, unfortunately, you will be declined entry and your stay or visit will be re-scheduled. Kindly sanitise your hands using the Hand Sanitiser by the front door before entering the property. It is also mandatory to wear a face mask when inside the communal areas of the house and to observe social distancing at all times. Special Covid-19 Information Signage has been placed around the property for your awareness and safety. Your disinfected key to the front / bedroom door will be in your room waiting for you. You will have also been sent our digital Guest Information Folder prior to arrival and our dedicated Guest Pre-Arrival website page to help you get the most out of stay.
Obviously and inevitably we have had to change a few things.

ROOM CLEANING
Cleaning between guests – We have enhanced our already rigorous cleaning protocols to adopt guidelines from https://gov.wales/tourism-and-hospitality-businesses-guidance-phased-reopening
Rooms will be fully ventilated before we enter to clean and during the clean. They will then be locked until guests next enter. Where possible rooms will remain empty for 24 hours between guests. Kindly note the downstairs Cloakroom will be unavailable during the current pandemic and Drawing Room (with the exception of pre-arranged afternoon tea slots).
All soft furnishings (throws, cushions etc) will have been already removed from the rooms – To prevent cross-contamination all other non-essential items will also be stored elsewhere.
All other surfaces and touch points will be cleaned first and then sanitised with an antiviral surface cleaner that complies with EN 14476.
All laundry, (linen, towels) will be washed at a minimum of 60 degrees before being tumbled and ironed through a dry roller.
All communal areas (corridor) will be sanitised daily; with particular attention paid to frequently used touch points.
Hand Sanitiser Gel (minimum 70% alcohol) will also be for guest use outside the Dining Room and main Entrance to the house.
We have decided to keep the complimentary toiletries in your rooms. All bottles of shampoo, body wash, hand soap etc will be thoroughly cleaned and sanitised between guests. Please feel free to bring your own soaps and toiletries.

EATING PROTOCOL & BREAKFAST
There is a small cooler fridge in your room. It is not a domestic fridge and is not designed to keep things colder than 10 degrees. It is adequate for cooling drinks or storing medicines and milk for a short period of time but please do not use it as a domestic fridge.
To reduce the risk of cross-contamination please do not eat in the Guest Bedrooms.
You will be required to choose your breakfast choice the night before by using our online Pre-Order Breakfast Form.
Guests will have full access to our Guest Online Contact Form so that email messages can be easily sent to guests and vice versa.

CHECK-OUT
We ask guests to check out by the designated time of 10:30am if not sooner as we need all the time we can possibly get to ventilate and sanitise rooms.
We ask that guests leave keys inside the room and where possible open windows and leave on the latch to start the ventilation process.
Please help us by paying with contactless card payments. PDQ machines will be wiped down with a disinfectant wipe after each use.
 COVID-19 SYMPTOMS  – PLEASE READ CAREFULLY
SUSPECTED CASE
Should a guest come down with COVID-19 symptoms within 7 days of leaving the premises we ask that they get in touch with us ASAP, in order for a track and trace system of guests staying at that time can be put in place.
If we have a suspected case at The Plas we will seek advice from The Track and trace system. Medical help will be sought for the guest, and the relevant authorities notified so that the guest can arrange a COVID-19 test. The guest plus partners will be asked to return home straight away; they cannot continue to stay at The Plas as we are not trained or equipped to look after them.
Once the guest has vacated The Plas, the (potentially) contaminated room will be left unoccupied for 72 hours. This includes a 24-hour waiting period before anyone can enter the room. A rigorous cleaning regime will be instigated and then a further buffer of 24 hours taken before the room can be re-let.
We will notify all new incoming guests to let them know we have unfortunately had to temporarily close.
Please refer to Step 1 of the NHS Covid-19 Safety Information Sheet for associated costs liability.
POSITIVE CASE
If the guest's COVID-19 test is confirmed as positive, the UK Government guidelines state that we may need to self -isolate ourselves for 14 days if they consider we have been within a close enough distance and for a long enough time where we could potentially have caught the virus. In which case, The Plas will not re-open until the 15th day after the positive case has departed. All guests will be contacted and given the opportunity to re-book.
If we exhibit symptoms of COVID-19 then under the Track and Trace system we will immediately have to close, and all guests will be asked to leave – we will remain closed for 14 days.
Please refer to Step 1 of the NHS Covid-19 Safety Information Sheet for associated costs liability.
LIABILITY
We accept no liability for a guest contracting COVID-19 during their stay. We will do our best to make The Plas as clean and safe as possible, but we cannot control guest actions or movement, the people they meet or the standard of hygiene at other establishments they enter or visit.